Video Marketing To Grow Your Brand
Learn how to attract your target market to you! What content will you offer? Video marketing content is powerful when it comes to branding yourself. Videos allow your prospects to become familiar with you and it will create the know, like and trust factor. In this post you will learn how use can use Video Marketing to grow your brand.
Your brand is you and main content distribution channel in this post is Videos.
There are different types of content. It can be videos, infographs, podcast, blogging, ebooks, meme's, how-to, product reviews and more.
First, know your target audience. What problems are they faced with? Are the expert that can solve that problem? Study your audience and learn about them and their habits.
Make videos that give answers to questions you know exist. It should be quality videos with quality content that answers questions of your target market. This is also known as native advertising.
After you create videos then you will want to repurpose them. Find new ways to recycle your existing video and
First thing to do before starting your Video is to GET OVER YOUR FEAR NOW!
Be Your Natural Self, Don't Use A Script
Use Your Editor, Don't Worry about Being Perfect
Start in your Setting for practice
Speak As If The Person is Right There in Front of You – Conversational
4 part process for Organic Search Traffic
If you want the video to rank, optimize it.
Keyword research – what are people searching?
Create Content – that reflects the certain keyword term people in your target will be searching for
On page optimization – to reflect the keyword we want it to show up for to improve your positioning online
IF NEEDED – Off page optimization – things we can do to help it rank up through offline efforts. For example, networking, newspaper advertising, word of mouth.
For keyword research – Google Keyword Planner- YOU WILL NEED ADWORDS (FREE) ACCOUNT
3- Part Video Marketing Formula
Research your market –
NOT everybody is your prospect! Though everyone may need your product not everyone will want your product.
Google Keyword Planner – need adwords account which is free
Forums – Find out what people are talking about
FB groups – Find out what people are talking about in your groups
Create a list of topics for your content from your research
The Riches are in the Niches
Create Video Content
Create content for example that you can give away like the, 101 Video Creation ideas cheat sheet, you can sign up for at the bottom of this post.
Answer their most pressing questions
Mobile Phone is really all you need to create videos
Create video content with this blueprint in mind:
* Intro
* Question
* Content – Basically answer that question but not fully. Leave them hanging to want more and a place to go get the rest of the information (ex, pdf doc that they opt in for)
* Call to action (What is the next step)
Promote Your Content
Facebook
Twitter
FB Ad to your content (ex. Upload video and drive traffic on FB to video)
Native Advertising – Advertising Content
YouTube (Residual leads)
REPEAT OVER AND OVER AND OVER AGAIN
Facebook Live and Periscope are HOT. You are the star of your own show.
Live Videos in groups – Make sure you get permission in groups before doing it.
Rev.com will transcribe your video which can than become a blog post.
Create ads and boost posts to get more eyeballs on your content.
Click below to check out some more video marketing secrets:
FREE TRAINING + PDF DOWNLOAD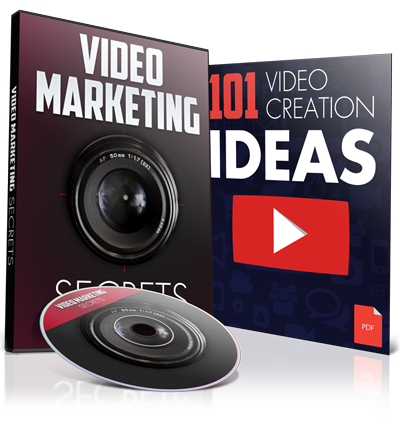 ATTENTION VIDEO MARKETERS: Get More Views, Subscribers, and Leads with YOUR Videos (and rank on Google Page 1)