Have you ever wondered if there is more to life than the 9-5 grind everyone has led you to believe was the "right" way?  You know what I mean, get good grades, go to college, find a great job, climb the corporate ladder then retire! Does that sound like the life you want?
Hi, I'm Manny Rodriguez and I coach entrepreneurs to live the life they want and deserve. You see, that was me! I went to school, focused on good grades and went to college. It was in college, that I realized, climbing a corporate ladder was NOT what I wanted to do. The idea of working 35-50 hours a week for someone else's bottom line just didn't sit well with me.
As a Puerto Rican born in New York City, life was challenging right out of the womb! Family was hooked on drugs so as a child I had to deal with so many things that were beyond my control. My Mother would later die of AIDS because of those poor choices. I CHOSE not to let that life define who I would turn out to be.
Though I could not control what happened to me before I was 18, it was all on my shoulders after and I made my own mistakes. The adult learning lessons would begin! Two failed business start-up attempts and many MLM's later I was that struggling home-based entrepreneur trying to learn how to market my business and grow a business from home
The problem was, I did NOT have a plan for success. I was the wandering "Manny" hoping, dreaming, and wishing that I would achieve the goals I had in my mind.
In November of 2015, a friend of mine, introduced me to an attraction marketing system.
I started following the leaders and started following the training and putting things into action. Things started to pick up for me and I started growing.
August 2016, things were going well and I could actually see where I was going and how I was going to get there. I quit my job to focus on ME.
I changed the way I was marketing and it SURE WORKED OUT!
Let me ask you a question – how would it feel like having people come to YOU asking about your business opportunity or anything that you have to offer?
What if I told you, that you no longer have to chase prospects? Crazy, huh? I used to think that it was only a dream to have that type of business.
If you have been struggling in your business and feel like you are spinning your wheels I know what that feels like. I've been there.
It all changed when I came across this Attraction Marketing system that positioned itself as the "Harvard for Network Marketers".
I am growing and ranking up in my MLM company and because I'm coaching other entrepreneurs to grow in their business I'm ranking up inside of the Attraction Marketing system as well.
As an entrepreneur, you probably know the ups and downs that come with the territory. There is not easy ride! The reward truly pays off when you take the RIGHT action needed to grow. No more spinning your wheels! This is a better way.
There is no magic button you can press. The only way is to treat your business like you invested a million dollars into it and go ALL IN! Just make the decision to do it!
THE TOP EARNER FRAMEWORK?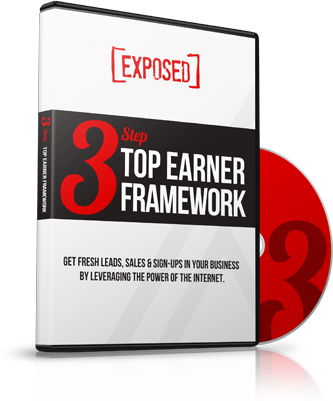 FINALLY Unlock the 3-Step Framework and Learn How to Get Fresh Leads, Sales & Sign-Ups in YOUR Business Leveraging the Power of the Internet.